5 minute read
Camera to Cloud for Narrative Filmmakers
New York-based director Cameron Carr tests Fujifilm's new integration with Frame.io Camera to Cloud (C2C) while on a cramped set in Harlem
Cameron Carr is a director and creative producer whose latest project, Harlem Fragments, is an autobiographical story about the breakdown of a New York family. Working on a tight turnaround in an even tighter location, he tells us the project was not without challenges.
"It's relentlessly ambitious, which also aligns with my personality," chuckles Cameron. "We developed this project in under two months – probably the fastest production I've worked on."
To ease some of the pressure, Cameron made use of Fujifilm's new integration with Frame.io Camera to Cloud (C2C). This allowed his team to automatically upload proxy files to his Frame.io account directly from the camera as they were being created.
Using FUJIFILM X-H2S, FT-XH File Transmitter, and an active internet connection, the proxies appeared in the Frame.io project folder in real time without the need for cables.
This meant the whole team could access the takes for review, markup, and download via a secure link – regardless of location. All they needed was a device that was connected to the internet.
As well as pressurized timescales, Cameron faced the added challenge of being so emotionally connected to the project.
"It's a subject close to my heart – and, in that sense, really meta in terms of how cathartic the project was," Cameron reveals. "It's based on the destruction of a Black family that lives in Harlem during the 2008 recession, loosely based on what happened to my family at the time.
"I used that as a framing reference point and condensed our ten-year divorce journey into fragments, so the film operates as a kind of family scrapbook."
This connection was made all the more poignant by Cameron's choice of location for filming: his old family home.
"I began by wondering how I could find the right spot, then it snapped: why don't I start by reaching out to the current owners?
"I thought they would just slam the door on me the second I asked something like that, but they were truly receptive, saying it's a really important story and they'd love to help in any way," recalls Cameron.
"It's potent, and pretty powerful," he continues. "Each day I would come home, review the dailies, and think, wow! On paper I could see it, but when it was brought to life, I could understand just how special it is."
Cameron goes on to tell us that, in a broader sense, he's shining a new light on this kind of story.
"I'm trying to spotlight the untold moments, histories, and feelings within Black communities. I want to tell the story in a lens that is not focusing so much on the heavy-handed divorce trauma, but instead the beauty of families when they're together," he explains.
"On top of that, I want to encourage the conversations that are either not dealt with, or not able to be fully processed because they're so deeply locked away," continues Cameron.
"I want this film to speak to children out there dealing with these coming-of-age moments, when you're thrown into something before you're old enough to process it.
"I hope it shows them there is a way forward from those moments, and that it's not all darkness."
While the choice of location brought valuable extra meaning, cramming a production team into such a small space presented other obstacles – both metaphorically and physically.
This is one major way C2C came into play on set, making it easier for Cameron and his DP, Nona Catusanu-Popp, to collaborate in real time.
"We were creating distinctive pieces of footage, including wide angle, dolly, and Steadicam. Often, Nona and I couldn't view our individual monitors," explains Cameron. "Being able to huddle together and view the takes side by side immediately on Frame.io helped keep us on the same page.
"That process in itself is a new level of operating. Now it's possible for your whole crew to instantly access and review footage; the old way of working doesn't compare or compete. After experiencing C2C, there's no going back," he enthuses.
"It's so crazy to have all our dailies in my pocket. Being able to see where we're at easily when I'm in-between takes – and to see it live as we're experiencing it."
But the advantages didn't stop there. Cameron was also able to share the takes with his editor and animator, who were both based off-site. Having such an instant connection meant they could begin work on the post-production process straight away.
This was in no small part due to the intuitive nature of the technology, which was extremely important on such a complicated narrative involving the present day, flashbacks, and animated memories.
"It was a simple process. We just downloaded the Frame.io app, logged in, and synced up with our cameras," explains Cameron.
"We could clearly identify what footage was captured on A cam and what footage was captured on B cam, all ordered chronologically. It wasn't just a raining waterfall of footage, it was organized.
"While my editor was working on his assembly cut, my animator was working on the animated segments that stitch in at key moments. This meant he could see how the live action flowed into his moments and out of them. It made everyone so much more in sync," he recalls.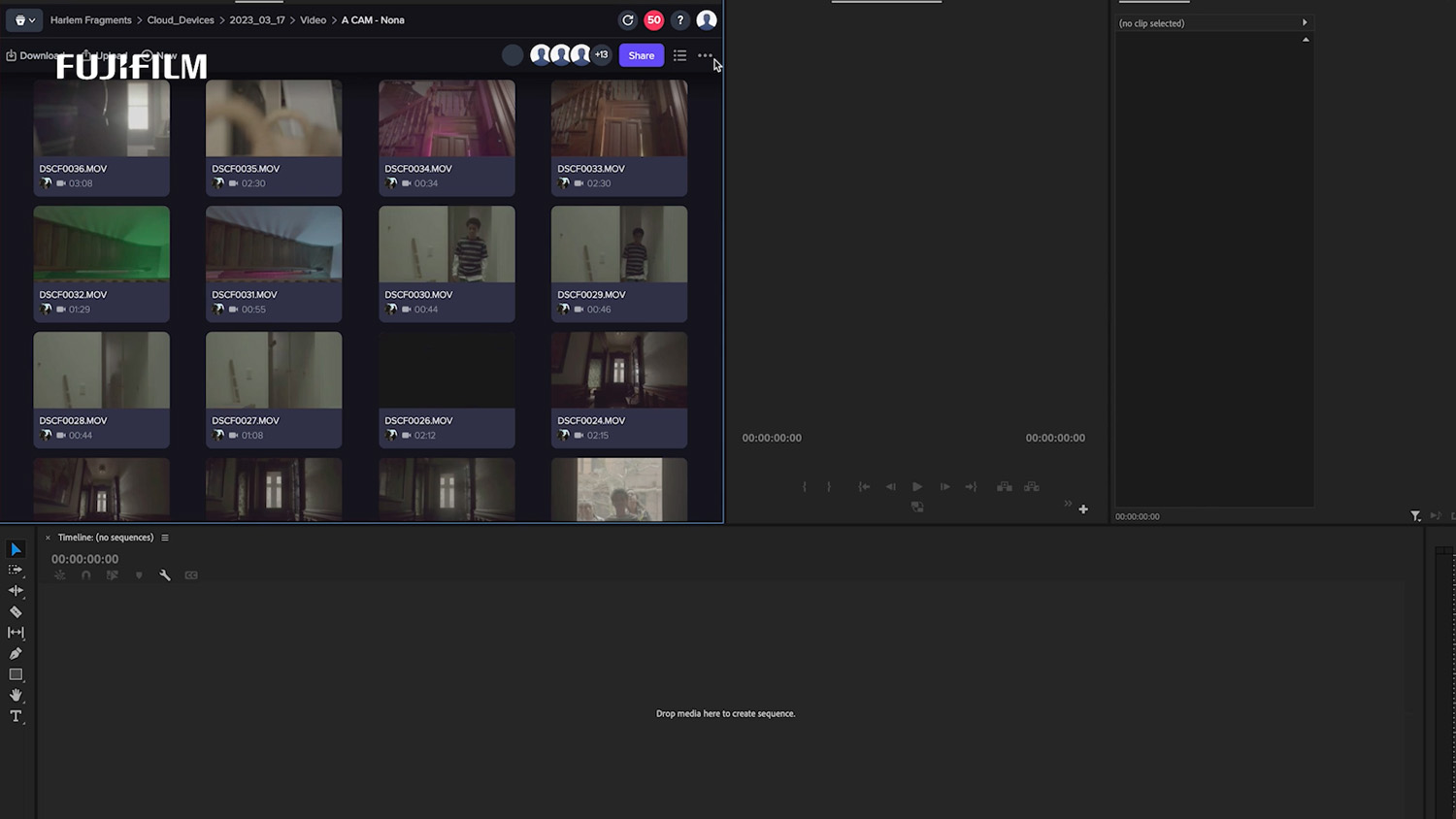 With everyone working in perfect harmony, Cameron was astounded at the progress the project made in such a short space of time.
"Having all this information in lockstep across both my editor and my animator enabled them to see how the film pieces together. This meant my editor could make stringouts of each take up front, so we ended the production with a surprise 90-second assembly," he beams.
"It's surreal, to see 90 seconds of your film at wrap – that capability was astonishing," Cameron enthuses.
Want to read more? Hear from Nona Catusanu-Popp, Cameron's DP on this project, who talks about her C2C experience here.
Frame.io Camera to Cloud integration is now available for FUJIFILM X-H2 and X-H2S via firmware update. Learn more about the integration here and sign up now for updates.
Featured products
FUJIFILM X-H2S
Featuring the stacked 26.1-megapixel X-Trans CMOS 5 HS sensor and X-Processor 5, X-H2S is a superfast hybrid machine, perfect for stills and video. Creative boundaries are broadened further than ever before, thanks to blackout-free 40fps bursts with AE and AF, Apple ProRes RAW 6.2K recording, and more.
Shop now
Learn more