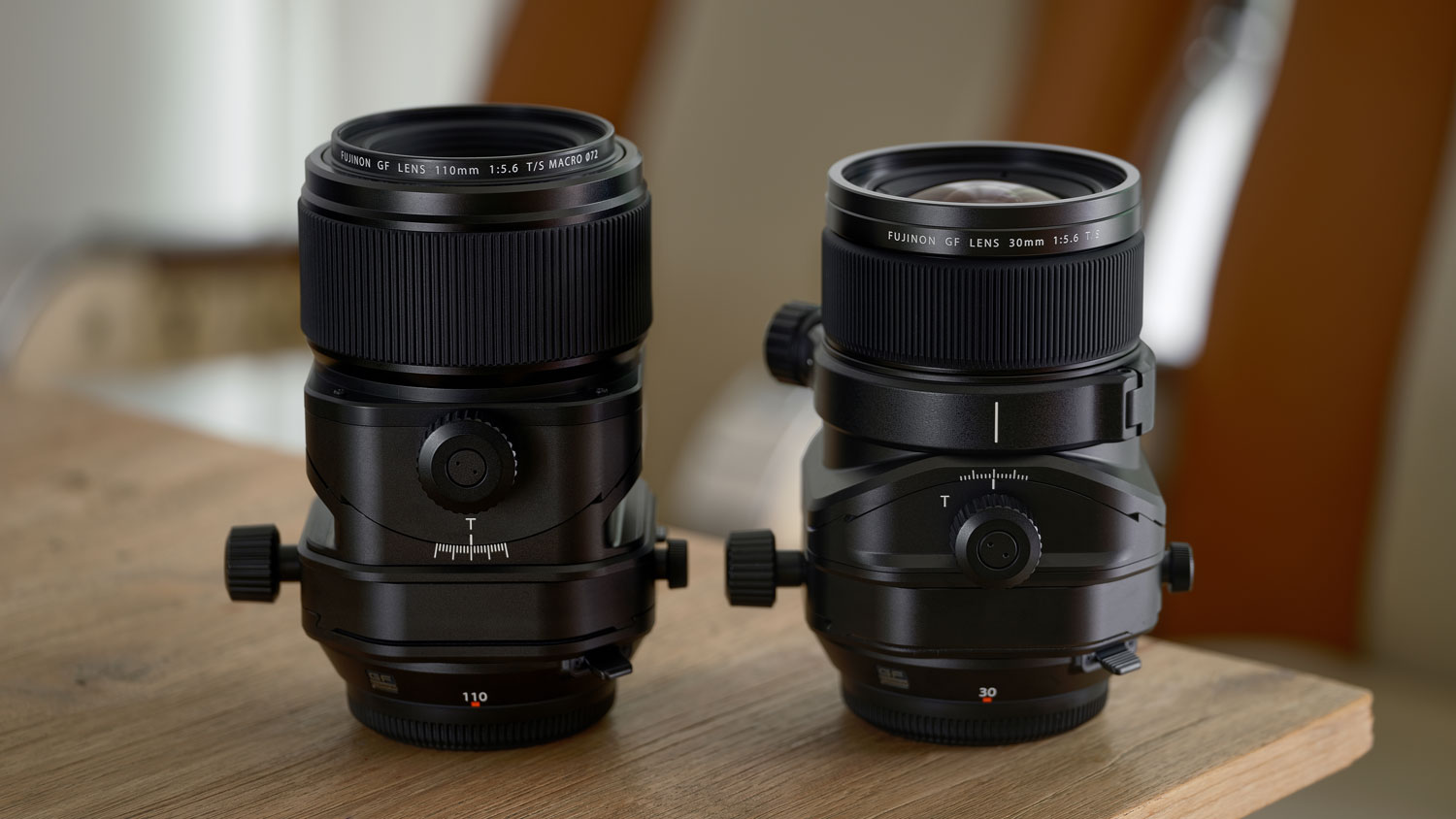 2 minute read
Tilt-Shift Lenses for GFX System: Key Features Explained
Understand the benefits of using Fujinon tilt-shift lenses with the large format FUJIFILM GFX System
Between them, the two tilt-shift lenses in the GF Lens lineup, FUJINON GF30mmF5.6 T/S and FUJINON GF110mmF5.6 T/S Macro, offer many opportunities for architectural, interior, product, and macro photographers – along with creative filmmakers.
Below is a roundup of the main features of Fujinon's tilt-shift lenses along with a GF30mmF5.6 T/S vs GF110mmF5.6 T/S Macro comparison.
Tilt, Shift, and Rotation Control
Tilt-shift lenses allow photographers additional control over perspective (shift) and focal plane (tilt), giving them the power to correct issues like converging verticals and affording greater command over depth-of-field.
GF30mmF5.6 T/S and GF110mmF5.6 T/S Macro have been designed to maximize that control, with the shift functionality in both lenses making the most of the 43.8×32.9mm GFX System sensor to allow adjustments up to ±15mm.
The tilt functionality on GF30mmF5.6 T/S offers an adjustment range up to ±8.5°, while GF110mmF5.6 T/S Macro offers up to ±10°, and both lenses allow rotation control from orthogonal to parallel at 0°, 30°, 60°, and 90° intervals.
This extensive freedom of movement is controlled by precision-engineered dials that enable photographers to make the most minute adjustments with absolute accuracy.
Shift and Rotation Sensor
When working with extreme precision, it is imperative to maintain accuracy throughout the entire workflow. As such, GF30mmF5.6 T/S and GF110mmF5.6 T/S Macro are both equipped with a built-in shift and rotation sensor that measures and records the exact shift and rotation settings selected.
These settings are saved in the image file's metadata and can be recalled in post-production when working with lens cast calibration (LCC) tools. This helps reduce time and hassle, providing complete accuracy.
Image Quality
GF tilt-shift lenses – like all GFX System optics – have been designed and constructed to provide the highest-quality images. Both offer the ability to resolve at over 100 megapixels, meaning they can perfectly complement the ultra-high resolutions achieved by GFX System cameras.
GF30mmF5.6 T/S consists of 16 elements in 11 groups, featuring two extra-low dispersion (ED), one super ED, and three aspherical elements. GF110mmF5.6 T/S Macro contains 11 elements in nine groups, including two ED and one aspherical.
This high-quality construction eliminates chromatic aberration and ensures clarity right across the frame, while color is true to Fujinon's outstanding reputation.
Additionally, FUJIFILM Nano GI Coating ensures ghosting and flare are minimized on GF30mmF5.6 T/S.
Tripod Mount
To reduce parallax when creating panoramic images, GF30mmF5.6 T/S includes a built-in tripod mount. This ensures the nodal point remains consistent across all images when making adjustments during the creation of multi-frame panoramas.
The result is a much smoother post-production workflow, as minimum additional editing is required when stitching individual images together.
Macro Photography
GF110mmF5.6 T/S Macro enjoys a minimum focus distance of 16.9 inches (0.43m). When combined with its 87mm equivalent focal length, this creates a maximum magnification of 0.5x.
GFX System cameras offer up to 102-megapixel resolution, which renders an astonishing amount of detail – when you add the ability to achieve front-to-back sharpness, this lens and camera system are a match made in heaven for macro photographers.
Shop FUJINON GF30mmF5.6 T/S and read the full specifications here. Shop FUJINON GF110mmF5.6 T/S Macro and read the full specifications here.
GF30mmF5.6 T/S vs GF110mmF5.6 T/S Macro
GF30mmF5.6 T/S
Construction
16 elements in 11 groups
Close Focusing Distance
0.3m
Maximum Magnification
0.21x
Dimensions
87.1mmx138.5mm
Filter Size
105mm
(uses adapter ring)