Our sensors
The FUJIFILM X-Trans sensor was developed to give photographers a 'no-compromises' approach to image quality – clarity and dynamic range with low levels of digital noise and no unwanted artefacts.
The sensors found in conventional digital cameras feature red, green and blue pixels arranged in a configuration known as a Bayer pattern. The rigid regularity of this pattern can lead to strange-looking artefacts in photos, such as the moiré effect (rainbow-like swirls of colour in fine texture).
To get around this, a filter is often put in front of the sensor that slightly softens the image. It's an approach that works well enough, but unfortunately robs photographers of some of the sharpness and clarity they might want.
In developing the X-Trans sensor, we found another way of avoiding moiré: we used a pattern of red, green and blue pixels that is less ordered, more like the random nature of the light-sensitive crystals on the surface of a piece of photographic film. The concept worked perfectly and the technology is now in its fourth generation: the X-Trans CMOS 4 sensor, which works in partnership with our X-Processor 4 imaging engine.
Without the need for a softening filter, X-Trans sensors offer photographers the best of both worlds: maximum clarity with no moiré.
FUJIFILM Sensor Sizes
Our X Series cameras use APS-C-sized X-Trans and conventional CMOS sensors that measure 23.6x15.6mm. This is large enough to allow shallow depth-of-field shooting and excellent performance in low light, but also enables us to design cameras small enough to go to more places, more often.
Our GFX system is built around a much larger CMOS-type sensor, measuring 43.8x32.9mm. This offers superb image quality for photographers seeking a no-compromises performance for high-end commercial, fashion or fine-art photography.
Our processors
At the heart of any X Series or GFX system camera, you'll find an image processor. This bespoke 'electronic engine' not only transforms raw sensor data into JPEG image files, but also governs every aspect of the camera's performance, from autofocus and exposure metering to fast, continuous shooting and 4K video.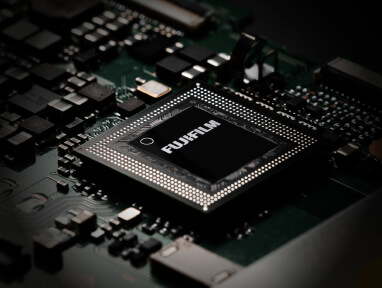 X-Processor 4
X-Processor Pro
There are two imaging engines in current X Series and GFX system cameras: the X-Processor Pro and our newest X-Processor 4. Both offer a polished performance, helping photographers track fast-moving objects around the frame and use the right camera settings for any kind of light.
Our image processors also help reduce digital noise when shooting in low-light conditions and are responsible for recreating the unique look and feel of our Film Simulation modes.
Our heritage
We're proud of our 80+ years of experience in the photographic industry and we use it in every camera we make. A good example is our Film Simulation modes, which are unique to FUJIFILM and give photographers the ability to simulate the look and feel of many types of analogue photographic film.
For example, Velvia recreates the bold colours and contrast of the film of the same name – loved by generations of landscape and travel photographers. ASTIA, meanwhile, maintains the powerful colours, but with a softer contrast that lets it capture a wider range of tones.
Portrait photographers will love our PRO Neg. Film Simulation modes (there are two, for high or low contrast), which deliver more muted colours, softer contrast and sublime skin tones. And then there's CLASSIC CHROME, which has a look reminiscent of the transparency films of a bygone age.
Black & white lovers are well catered for, with standard MONOCHROME and enhanced ACROS modes (the latter named after our popular black & white film, which adds extra clarity and impact). Each is available in three variations – YELLOW, RED or GREEN – and simulates the effect of a coloured filter on the image.
Even video shooters are well catered for with ETERNA – a Film Simulation mode named after our legendary motion picture film, known throughout the movie industry. Its very low-contrast look is easy to colour grade when editing and captures a wide dynamic range.
PROVIA/Standard
Velvia
ASTIA
CLASSIC CHROME
PRO Neg. Hi
ETERNA
PRO Neg. Std
ACROS Standard
ACROS + Yellow
ACROS + Red
ACROS + Green
MONOCHROME Standard
MONOCHROME + Yellow
MONOCHROME + Red
MONOCHROME + Green
Sepia
Our existing range
GFX
DSLR STYLE
RANGEFINDER STYLE