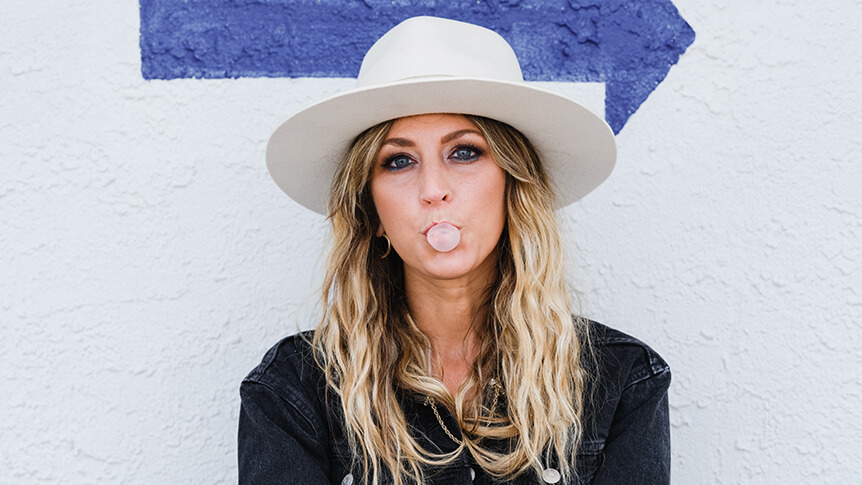 Photo © Alison Conklin
6 minute read
Top Portrait Lenses
Thinking about giving portrait photography a try? Then you need to check out our guide to some of the best FUJINON XF portrait lenses
Different lenses do different jobs, so it's essential to find the right one that fits your style. Luckily, the FUJINON XF lens range has a selection of prized optics that are ideal for portrait photography. Whether you're looking for detailed close-ups, fill-the–frame fashion, or wide-angle environmental portraits, you'll find some great options in the XF range.
FUJINON XF Prime Lenses
Prime lenses have a fixed focal length, which means the only way to zoom in or out is to physically move yourself – and the camera – forwards or backwards. They are popular with portrait photographers because, in most cases, they offer higher quality and wider apertures than zooms due to fewer internal lens elements. That being said, advances in lens technology have closed this quality gap significantly, as you'll discover in the 'XF Zoom Lenses' section below!
XF23mmF1.4 R
The XF23mmF1.4 offers a 35mm equivalent focal length of 35mm, which is great for adding some of the surrounding environment to put your subject into context. It also boasts one of the widest apertures in the range at F1.4, which, when focusing on your subject, will produce a beautifully blurred background to make them really stand out.
XF35mmF2 R WR
With a 35mm equivalent focal length of 53mm, the XF35mmF2 lends itself really well to portraiture, because it offers an angle of view that is very similar to that of the human eye. Add to this exceptional optical quality, fast autofocusing, and weather-resistance for peace of mind on location, and you have the perfect portrait combination.
XF56mmF1.2 R
With a 35mm equivalent focal length of 85mm, this prime lens is an absolute favorite with serious portrait photographers for two main reasons. First, it allows you to shoot at a comfortable distance from your subject, creating a flattering perspective and second, it offers the widest aperture in the XF range. Making images at wider apertures, such as F1.2 or F1.4, means you'll get beautifully blurred backgrounds, so your subject really stands out. A second version of this lens is also available; the XF56mm F1.2 R APD. It has a special internal filter, known as an apodization filter, which enhances the smoothness of the blurred background even more!
XF90mmF2 R LM WR
The XF90mmF2 offers a 35mm equivalent focal length of 137mm, which combines with a wide maximum aperture of F2 to create stunning portraits. It also features dust and weather-resistance, which makes it a fine choice if you want to create images on location outdoors in less-than-favorable conditions!
FUJINON XF Zoom Lenses
As mentioned previously, due to the larger number of internal lens elements that make the zoom functionality possible, these lenses have historically offered smaller apertures and less character than primes. So why bother? The answer is: versatility. Zoom lenses cover a wide range of focal lengths all in one package, which means you can react quickly to a variety of different situations.
A good example could be wedding photography. With such a variety of images on your list, in the time you spend swapping between prime lenses, you could miss some of the best moments.
Also, the XF lens range features class-leading zooms that are renowned for their stunning image quality, sharpness and character.
XF16-80mmF4 R OIS WR
With a 35mm equivalent focal length of 24-122mm, this is a highly versatile lens that's perfect for creating high-quality portraits right through its zoom range. At the wide angle setting, you can create environmental shots, including the subject within their location. At the telephoto end, it's ideal for head and shoulders portraits. All this plus weather-resistance and a powerful Optical Image Stabilization (OIS) system, too!
XF18-55mmF2.8-4 R LM OIS
This versatile and affordable zoom lens offers a 35mm equivalent focal range of 27-84mm, which lets you create a broad variety of images. You can photograph your subject in a beautiful scene or zoom in for headshots without having to physically move closer. Plus, built-in Optical Image Stabilization (OIS) helps to combat camera shake for sharper results.
XF50-140mmF2.8 R LM OIS WR
The XF50-140mmF2.8 lens is well-loved by photographers around the world for its stunning quality. With a 35mm equivalent focal range of 76-213mm and a constant F2.8 aperture, it combines beautiful compression with smooth background blur for stunning results. Also, dust and weather-resistance ensure you can be confident making images in almost any conditions.
Compare the Lenses
XF23mmF1.4 R
Construction
11 elements in 8 groups
Close Focusing Distance
0.28m
XF35mmF2 R WR
Construction
9 elements in 6 groups
Close Focusing Distance
0.35m
Dimensions (DxL)
60x45.9mm
XF56mmF1.2 R
Construction
11 elements in 8 groups
Close Focusing Distance
0.7m
Dimensions (DxL)
73.2x69.7mm
XF90mmF2 R LM WR
Construction
11 elements in 8 groups
Close Focusing Distance
0.6m
Dimensions (DxL)
75x105mm
XF16-80mmF4 R OIS WR
Construction
16 elements in 12 groups
Image Stabilization
Yes, 6 stops
Close Focusing Distance
0.35m
Dimensions (DxL)
78.3x88.9mm (Wide setting)
XF18-55mmF2.8-4 R LM OIS
Construction
14 elements in 10 groups
Image Stabilization
Yes, 4 stops
Close Focusing Distance
0.3m
Dimensions (DxL)
65x70.4mm (Wide setting)