Photo © Bobbi Lane
5 minute read
Get to Grips With Film Simulation Modes
Film Simulation modes are part of what make X Series cameras so special. Find out why and how they can help you make better photographs
FUJIFILM cameras are great at reproducing color. Images look superb straight out of the camera thanks to accurate skin tones, big blue skies, and lush green foliage. Our knowledge of color science dates back many decades, drawing on our considerable experience in analog photography.
We have made color and black & white films that are the gold standard in many genres of photography, from landscapes to portraits, and much more. Based on this, we developed FUJIFILM Film Simulation modes, so photographers using X Series and GFX digital cameras can experience the same performance.
Our Film Simulation modes mimic not only the color of some famous analog films, but the tones and contrast, too. You can access them through your camera's main menu system, but it's faster through the Quick Menu (just press the Q button), or a dedicated function button (Fn) assigned to Film Simulation modes.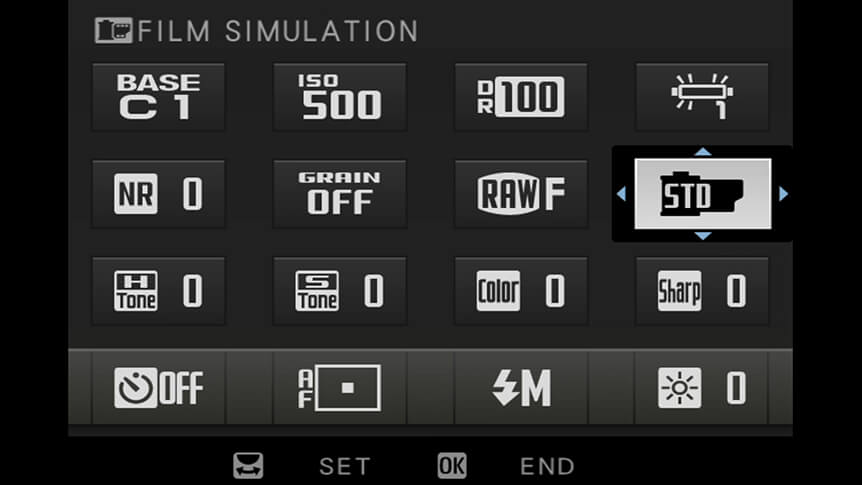 You'll see the effect of the currently selected Film Simulation mode on the camera's screen and in its viewfinder as you make pictures. Each one has its own unique characteristics and – although some are definitely more suited to a certain style of photography – it's really fun exploring the differences between each mode.
Let's take a look at each Film Simulation mode and discover what it's best for. However, some of our cameras don't feature every mode – see your instruction manual for details.
Color Film Simulation Modes
PROVIA/Standard
This is your camera's default Film Simulation mode and is a good general-purpose setting that's suitable for most subjects. It provides faithful color reproduction with moderate contrast and sharpness.
Just like its analog namesake – the professional quality transparency (slide) film FUJICHROME PROVIA – this mode is suitable for a wide variety of tasks, from landscape and portrait to still life, nature, and fashion.
Velvia/Vivid
One of our most famous films is FUJICHROME Velvia: a reversal film (ie one that produces transparencies or 'slides') that delivers vibrant images with lots of impact. The Film Simulation mode does the same, with a boost in color saturation and contrast that is great for landscape and nature photography.
ASTIA/Soft
Like the Velvia Film Simulation mode, ASTIA also delivers vibrant colors with extra saturation, but its contrast is softer, making this a good choice for fashion, interiors, and even portraits. The original FUJICHROME ASTIA boasted the softest tonal reproduction in its class, and was able to reproduce the most delicate of details.
CLASSIC CHROME
This Film Simulation mode is not named after a specific FUJICHROME or FUJICOLOR product, but instead mimics the ambience of documentary-style magazine photography from decades past. It has slightly desaturated colors (especially reds and greens) with harder shadow contrast, resulting in a timeless, subdued look that works well with dramatic lighting and retro-style subjects, as well as reportage projects.
PRO Neg. Std
This Film Simulation mode is a good choice for portraits, as it's known for delivering soft contrast and beautiful skin tones. Colors are somewhat muted, making it a good option for lifestyle images and even street photography. This is a subtle option, able to record the most delicate of differences between colors and works well when the photographer has complete control over lighting.
PRO Neg. Hi
Designed for fashion and portrait photography, PRO Neg. Hi features soft skin tones, but offers a little more color saturation and harder shadows than its sibling, PRO Neg. Std. It's great for emphasizing line, form, and texture, and offers slightly enhanced contrast across the board.
ETERNA
One for the filmmakers, ETERNA is named after the classic film industry emulsion of the same name. It delivers understated colors, extended dynamic range, and flat contrast. A perfect choice when color grading in post-production is desired.
CLASSIC Neg.
Like CLASSIC CHROME, CLASSIC Neg. has a vintage feel, and has been carefully developed to simulate the everyday color negative film that, for generations, was loaded into cameras all over the world. Color is expertly controlled across the picture's tonal range, giving delicate contrast with improved definition. Colors are slightly more saturated than CLASSIC CHROME, and shadows are deeper.
B&W Film Simulation Modes
MONOCHROME
When you want to create images in black & white, this is the Film Simulation mode for you. It offers a classic black & white look with a smooth character. It also offers options that simulate the effect of a color filter being used over the camera's lens:
Yellow: slightly darkens blue skies and enhances contrast.
Red: darkens skies even more and enhances contrast further.
Green: reduces the appearance of blemishes on skin – popular with portrait photographers.
ACROS
This more recently introduced black & white mode is richer in clarity and sharpness, and was inspired by our NEOPAN 100 ACROS film, which was known for its fine grain, rich gradation, and outstanding sharpness. Like the MONOCHROME mode, it's also available in yellow, red, and green versions, but ACROS also has an embedded graininess that matches the film emulsion original.
SEPIA
The SEPIA Film Simulation mode adds a reddish-brown color cast to images and is great for giving your photos that distinctive vintage look.