Photo © Chris Knight
4 minute read
Fashion Photography with X100V
Fashion and portrait photographer, Chris Knight, creates on the streets of New York City with FUJIFILM X100V
Chris Knight has spent many years building a strong reputation in fashion photography. And with work published in a long list of national and international publications, his skill is clear. It's for this reason we wanted to find out his thoughts on using FUJIFILM X100V in this captivating genre.
Chris believes anything can be remarkable, it's all in how you frame it, and X100V's simple design and ease of use helped him to do just that. "The thing I value the most in a camera is for it not to be a hurdle," says Chris. He explains that being able to pick up a camera, find out where the basic controls are, and start creating quickly and easily is, for him, more important than the finer specifications.
"A good, well-designed user experience in a camera beats out an extra one or two megapixels any day of the week for me," he continues. "Cameras today are overall fantastic and can do pretty much what I need them to do. A camera that makes that easy is what I look for."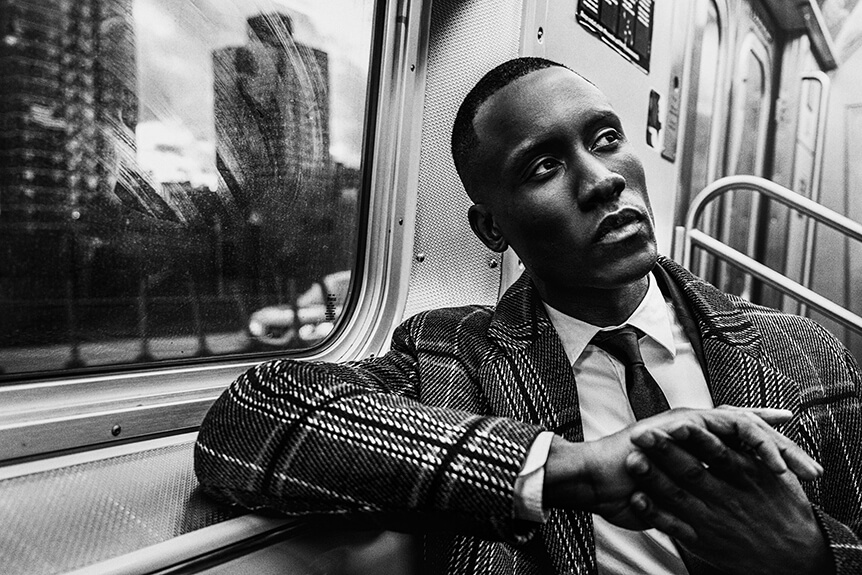 Chris is no stranger to the X100 series of cameras and he feels X100V perfectly combines existing features that he loves with new features that only increase the camera's appeal.
"The previous model of this camera was one of my favorite cameras. It really is just an absolute joy and pleasure to use," he beams. "The leaf shutter is terrific when shooting outside with a flash, which I did all day on the images featured here. The hybrid viewfinder is great whether I want to shoot traditionally or see exactly what I'm getting, especially when creating in black & white.
"This camera is a great evolution of something I already loved – and things like the pop-out screen, faster guts, sharper lens etc just make it even better."
Chris goes on to discuss in more detail his favorite features of the camera and how they came into their own on this particular fashion shoot.
Aiming to portray the high energy and spontaneity of the city, Chris found X100V to be the perfect tool for the job. With so many changes in location and so much movement in his images, he needed a camera that allowed him to be quick, inconspicuous, and travel light.
One feature that helped was the two-way tilting LCD touchscreen and precision autofocus. "I shot low angle for a lot of the day. Being able to hold it low and keep moving, while using Face Detection autofocus, was insanely useful and saved my back," he smiles.
Chris mentioned earlier how useful the leaf shutter is, but adds that this existing feature was one of the reasons he fell in love with the X100 series in the first place. "Not having to worry about a traditional sync speed and being able to use low apertures was awesome. Not a new feature, but I still love it," he says.
However, the Advanced Hybrid Viewfinder, which has been upgraded for X100V, is perhaps Chris's favorite aspect. Having a 0.52x magnification optical viewfinder (OVF) and a 3.69 million dot OLED electronic viewfinder (EVF) at his disposal was a great asset for him. "The hybrid viewfinder is just an absolute winner for me. Being able to switch between OVF and EVF is so useful. I still love an optical viewfinder, generally speaking, but the EVF on this is stunning," he says.
All in all, Chris's view on the X100V is emphatic. "I've never hesitated to recommend the X100 series. It's always been one of my favorite cameras out there and X100V is no different," he enthuses. "It's easy, unobtrusive, fast, effective, adorable – if that matters to you – and just lets you photograph in the moment."
Take a look at how Chris works with the FUJIFILM GFX 100